Originally Posted by DTGroup USA
On the heels of in-depth virtual training from DTG, Patrick Kenzo Mateene—a refugee from the Democratic Republic of Congo—shares how he organized and coordinated a KVC soap-making program to help families in the camp succeed.   
---
"Kakuma is the Swahili word for 'nowhere.' For the more than 160,000 refugees and asylum seekers who live in the Kakuma Refugee Camp in northwestern Kenya, it is their home." –UNICEF website
DesignThinkers Group (DTG) is proud to have been one of many organizations aiding the Kakuma Vocational Center (KVC), an entity within the Kakuma Refugee Camp established in 2018 to provide training for children and adults in life skills and technology usage. For two years, DTG and others have helped add to the center's capabilities and expand their knowledge and skills. Our engagement has been pro bono as part of our team's commitment to making an impact for fellow humans in times of need.
We first wrote about KVC in June 2021 as a case study in virtual co-creation and training in a refugee camp setting. We're publishing a follow-up assessment concurrently to this post, but here we would like to shine a spotlight on one refugee's story in his own words. The narrative illustrates the profound, positive impact that design thinking can have toward improving the lives of families in need.
Soap Making in Kakuma Camp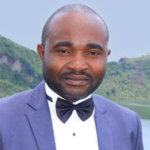 by Patrick Kenzo Mateene
Soap making is one of the best-known activities in Kakuma Camp. Soap is a primary necessity in the community and the demand for it is high, while production and commercial availability is very low. For a couple of years, soap making has been considered the only business which cannot fail because of the need presented by customers for this product within the Camp.
After receiving training in soap making, participants of the soap making course begin making bar soaps that are sold in the community. This has resulted in several growing small businesses that are helping families raise money to meet basic needs such as food, water, household goods and children's education. Soap making has allowed many women to care for their children by using the skills they learned and by starting their own small businesses. The total number of trainees reached 100 women and in the coming month it will graduate another 15 trainees.
HOW DID THE SOAP MAKING TRAINING GET STARTED?
In 2021, KVC delivered classes in Social Emotional Learning (SEL), which was designed to equip parents with skills to enhance their abilities to manage and take care of their children based on the child's age. This class was developed because KVC realized that many parents did not know how to take care of their children. As refugees, many parents did not grow up with role models and families to help them. They have low trust of strangers and people from different ethnic backgrounds. With the traumas of war, famine, and dislocation, trust of learning from others was minimal.
KVC observed that children went to school in the morning and returned home at the end of the day acting out bad behavior. We came to understand that the children did not have activities that occupied them after normal school.
The first idea was to create a vocational training program for these kids. KVC also trained the parents in SEL in order to make effective changes in the homes. After giving SEL classes, we realized that the solution is not yet durable as it is said, "A hungry belly has no ears." The solution we had imagined for addressing the bad behavior after school was not adequate—we needed to iterate!
So KVC took another look. We found that the skills and knowledge provided to the parents were not enough because their children still did not have their basic living needs met. The KVC team came up with the idea for soap making training for the mothers. We understood that in order to support the SEL training, parents needed access to funds to provide household basics. Soap making training would result in parents having their own soap supply, and they would be able to sell surplus soap in the Kakuma Camp Market. Dr. Ilene Winokur, a generous KVC donor and mentor, endorsed and supported this venture, effectively enabling parents to run their own small businesses.
IS THE PROGRAM EFFECTIVE? HOW WILL IT REMAIN SUSTAINABLE?
The mission and vision of KVC is to unlock human creativity to ramp up problem-solving skills and develop a sense of doing. We aim to leave a sustainable world to future generations. This soap making program, currently only provided at the KVC, has trained over 100 people in soap making, with plans to reach more. It has proven to be a good way to allow women to build their own businesses, and now we hope to expand the training to have impact on a bigger scale.
Loans
One of the continuing challenges is that all parents do not have the same access to money. KVC recently has undertaken a new effort to assist parents with loans that can be reimbursed after selling their soap products. The loan was of Ksh1,000 (approximately $8.38 USD) that they might be able to repay with the proceeds of 2-3 soap sales, because with Ksh1,000, you can make a 20-liter container of liquid soap and sell it easily for Ksh2,000.
Where does this money come from? KVC staff members are using a portion of their salary to make loans to students. They see it as a part of achieving the Center goals, helping the community, and changing lives within the Camp. As of now, Camp life is hard with economic inflation rapidly increasing. KVC staff has limited ability to make loans, so KVC is seeking support for this program.
Earnings
Read more at: https://www.designthinkersgroup.us/design-thinking-ripple-effect-soap-making-in-kenyas-kakuma-refugee-camp/